One-Pot Pumpkin Quinoa Chili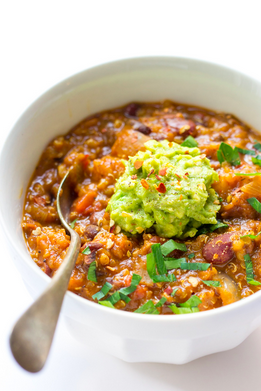 INGREDIENTS:
       1 Tbsp               olive oil
       1 medium          onion
       1 cup                 butternut squash, cubed
       30 oz                 pinto beans, canned
       1 3/4 cup           pumpkin, canned
       14.5 oz              diced tomatoes, canned
       2 cup                 vegetable broth
       1/2 cup             quinoa, uncooked
       1 Tbsp              chili powder
       3 tsp                 cumin, ground
       1 1/2 tsp           paprika
       1 tsp                 coriander
       2 tsp                 salt
       2 tsp                 black pepper, ground
       1 tsp                 maple syrup, pure
       1/2 tsp              lemon juice
     Toppings:
        1/4 cup            guacamole
        1/4 cup            sour cream, light
DIRECTIONS:
Heat the oil over medium heat in a large stock pan or dutch oven
Chop onion and squash (if not buying frozen) and add to the pan. Saute for 3-5 minutes until the onions are soft
Pour in beans, pumpkin, tomatoes, and broth and stir to combine
Add in quinoa and spices (through pepper) and bring to a boil
Once boiling, reduce heat to a simmer, cover, and let cook for 30-40 minutes until the squash is tender 
Stir in maple syrup and lemon juice, and adjust seasonings as needed.
Top with guacamole, sour cream, and/or fresh herbs if desired.