Creamy Carrot & Curry Soup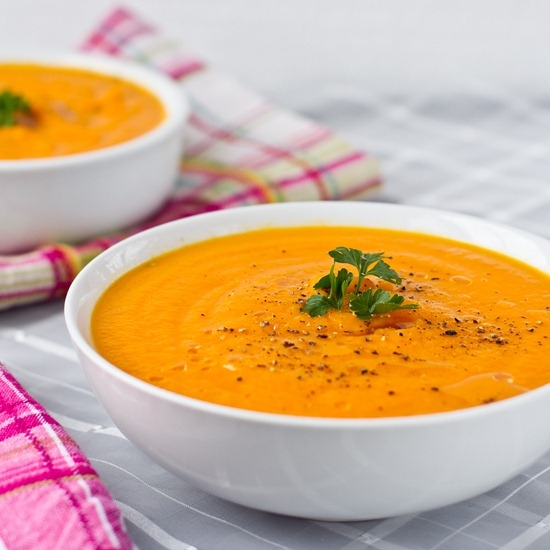 Makes 8 servings
Ingredients:
1 tbsp PC olive oil
1 medium onion, chopped
1 celery rib, chopped
2 garlic cloves, chopped
2 pounds of carrots, scrubbed but unpeeled, cut into ½ inch thick rounds
11/2 tbsp curry powder
11/2 tsp ground ginger
5 cups reduced sodium chicken broth1 cup plain non fat yogurt or light coconut milk
Salt and freshly ground pepper as desired
Method:
Heat the oil in a large saucepan over medium heat.
Add the onion, celery, garlic. Cook, stirring occasionally until the onion is golden, about 5 minutes.
Add the carrots and stir well.
Stir in the curry powder and ginger. Stir constantly for 30 seconds.
Add the broth and bring to a boil over high heat. Reduce the heat to medium low and partially cover the pot. Simmer until the carrots are very tender, about 30 minutes.
In batches, transfer the soup to a blender, process until smooth and pour the pureed soup into a large bowl. If you have a hand blender you can puree the soup right in the pot.
Stir in the yogurt or light coconut milk. If a thinner soup is desired add additional broth. Season with salt and pepper. Serve hot.
Nutrition Information Per Serving:
132 calories
7g protein
3.8g fat (1g saturated)
18g carbohydrate
425mg sodium
3.7g fibre
A Taste of Thai!
Thai Stir Fry
Ingredients:
Cooked ww spaghettini
1/4 c Asian-style salad dressing
Chicken breast strips or shrimp (or pork tenderloin strips)
2 cloves minced garlic
3 cups frozen stir fry veg mix
1/2 c reduced sodium broth
1 tbsp (I use more like 2!) light  peanut butter
1/4 light soy sauce
Directions:
Cook pasta
Heat dressing and garlic on skillet on med-high heat.  Add meat and stir fry until tender.
Add vegs, broth, and Peanut Butter, stir fry for about 5 minutes or until meat is cooked through (if not using already cooked meats)
Drain pasta and return to veg mixture, add soy sauce and toss to coat with sauce.
Makes 4,  2 cup servings!!
Enjoy!!!
Thai Chicken Pizza:
Peanut Sauce:
1/4 c light PB
1/4 c hoisin sce
1tbsp lemon juice
2 tsp toasted sesame oil
2 tsp grated ginger root
1tsp each, honey, soy sauce, red wine vinegar
1 tsp minced garlic
Bring all to a light boil in saucepan, let cool before spreading top of pizza

Spread on top of a whole wheat pizza crust, whole wheat pita or Naan bread, top with:
Toppings:

light shredded Monterey Jack
green onions
It called for Bean sprouts, shredded carrots (I did not do), I used:

Spinach and mushrooms and asparagus!
fresh cilantro

cooked chicken breast strips
Oven 425F, cook for 12 minutes