Bulgur- Black Bean Burgers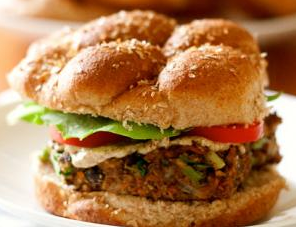 Ingredients
1 Tbsp            olive oil, plus additional for brushing
1                      small onion, diced
½ cup               bulgur
1 (14oz) can    black beans, rinsed, drained and mashed
½ cup               whole wheat breadcrumbs
1 ½ Tbsp          Worcestershire sauce
1                      egg, slightly beaten
2                      garlic cloves, minced
½ cup               fresh cilantro, minced
¾ tsp               ground cumin
¼ tsp               cayenne
½ tsp               pepper
¼ tsp               salt
4 whole wheat hamburger rolls
Optional toppings: lettuce, tomato, red onion
For Lime-Cilantro Aioli:
¼ cup               prepared low-fat mayonnaise
¼ cup               nonfat Greek yogurt
1                      lime, zest and juice
1                      clove garlic, chopped
1 Tbsp             chopped fresh cilantro
Instructions
Heat olive oil in a small heavy saucepan over medium heat, sauté onion until golden, 5 to 7 minutes. Add bulgur to pan along with 1 cup of water or broth.  Cover and simmer on low until water is absorbed, about 15-18 minutes.
Put cooked bulgur in a large mixing bowl with remaining ingredients and mix well.
Form into 4 patties, about ½ cups of mixture per patty.
Chill at least 20 minutes.  While patties chill, prepare aioli by pulsing all ingredients in a blender or food processor until blended.  Chill until ready to use.
In a large skillet over medium heat, add 1 tablespoon oil.  When hot, drop in patties and cook until golden, about 5 minutes per side.
Serve on whole wheat rolls with Lime-Cilantro Aioli and desired toppings (lettuce, tomato, red onion, avocado).
Adapted from: https://wholegrainscouncil.org/recipes/bulgur-black-bean-veggie-burger